The Fallout series of role-playing video games have been well-received and popular since Fallout was released in 1997 as "America's first choice in post-nuclear simulation." Post-apocalyptic video games have been numerous, yet the Fallout games stand out for their immersion and complexity. Fallout has managed to transcend the traditional combat- and leveling-focused RPGs to satisfy players on a much deeper level.
At least, the Fallout games transcended the typical genre offering until Fallout: New Vegas. Never before has a canonical, major release Fallout game received such hedged reviews from fans and critics. Yet, New Vegas seemed to have all the ingredients of a stellar Fallout game: an expansive world, factions to meet, choices to make, and excellent casting, all centered around a sweeping and nuanced regional conflict. Why, then, did it feel incomplete? There was something missing from New Vegas that, as players and critics have remarked, makes it feel more like a really big Fallout 3 expansion rather than a Fallout game in its own right.

This article is full of spoilers for the Fallout series. Note that when I refer to "the Fallout series", I am referring to the canonical major releases of Fallout, Fallout 2, Fallout 3, and Fallout: New Vegas.
A brief history of Fallout
Fallout was written at a challenging time for nuclear apocalypses. The fall of Soviet Russia in 1991 had left no Cold War to go hot – there was no more beet-eating boogeyman waiting over the horizon with a sack of ICBMs. We had spent decades being just a missed phone call away from Mutually Assured Destruction, yet that had all evaporated overnight as Boris Yeltsin stood on a tank in Moscow.
The writers could have taken the easy way out by leaving the USSR as the boogeyman and chalking it all up to the alternate timeline that Fallout is set in. Thankfully, they got a lot more creative. Instead of restoring the USSR as a superpower and nuclear threat, the Fallout timeline discounts Soviet Russia's influence after World War II: the USSR exists, but conflict is minimal or nonexistent. In Fallout's history, the US is the unchallenged 20th century superpower after WWII.
Who to have a nuclear war with, then? The USSR's protégé, the People's Republic of China. Fallout's 21st century features an increasingly desperate international community besieged by crisis after crisis: civil unrest, mysterious diseases, political and military shifts, and countries world-wide going to war over oil, water, and nuclear fuel deposits. Decades of tension and conflict culminate in a global nuclear exchange in 2077, between the United States, China, and their allies.
The choice of China is an excellent one. Their exploding population and desire for influence are easy to project in to global conflict with a United States eager to retain its economic control and quality of life. However, the real brilliance of China's placement in the Fallout universe is that, in the real world, there has been no serious conflict between China and the US. Players carry no weight of history and dogma to cloud their immersion into the plot. While the elements of Fallout's history are familiar, the differences set up a clean slate within which the game's creators can reconstruct a plausible history. This familiar-but-foreign world is a critical aspect of Fallout's immersion.
Edit: Fallout forum user Okie brings up a very important correction about US-China relations that helps drive my point:
Okie: I hate to be nitpicky about something like this but really? Korea ring a bell? There was more serious conflict between the ChiComs and the USA than there ever was between us and the Soviets.
emilio: absolutely, and i stand corrected. however, how many of the generations that play these games know the story behind the "Forgotten War"? unlike Vietnam as a proxy war with China, Korea was more a "semi-proxy" war with them. despite this, decades of propaganda and jingoism weren't aimed at Korea and China, they were aimed at Soviet Russia.
A brief history of the player character
Each Fallout installment's player character has a past unique to that game. You don't play the same character between games, nor do you have the choice to play different characters in one game. This, too, is important to emotional involvement in the game, as the production can focus on the best storytelling experience for the plot.
So, what are the pre-New Vegas Fallout games about?
Fallout: You grow up in safety and stability as a resident of Vault 13, an inaccessible nuclear shelter. Suddenly, you are ordered to leave the security of the Vault to recover a water chip and save your people. You must venture into an unknown and likely harsh nuclear wasteland for which you are barely prepared. Upon returning, you discover that there is a bigger threat: the Master and his super mutant army.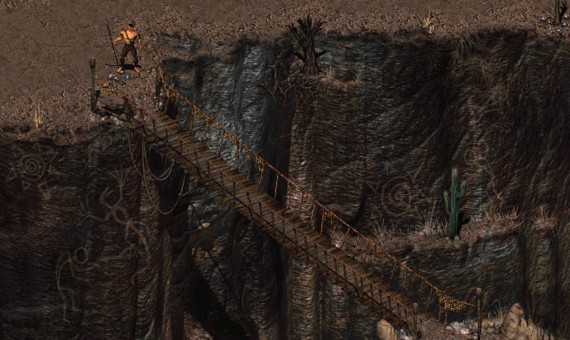 Fallout 2: You grow up in safety and stability as a resident of Arroyo, a completely isolated tribal community. Suddenly, you are asked to leave the security of your village to recover a GECK and save your people. You must venture into an unknown and likely harsh nuclear wasteland for which you are barely prepared. Upon returning, you discover that there is a bigger threat: the Enclave has taken your people.
Fallout 3: You grow up in safety and stability as a resident of Vault 101, an inaccessible nuclear shelter. Suddenly, you must leave the security of the Vault to find your father and ensure the stability of your people. You must venture into an unknown and likely harsh nuclear wasteland for which you are barely prepared. Upon finding your father, you discover that there is a bigger threat: the Enclave is attempting control of the Capital Wasteland.
The Fallout archetype
The first three major Fallout games follow a narrative that is the core of their immersion and satisfaction. This satisfaction transcends the weapons and action, the joys of "Bloody Mess", the celebrity voices (Wayne freakin' Newton!), and even the massive and detailed game world: there is an emotional involvement built on the player character's background and decision making opportunities.
The essential element for this emotional involvement is a player character (PC) that is initially isolated from the wasteland and naive about its nature. The PC starts in a protected community with the support of family and friends, a familiar environment, and plentiful food and water. There may be tension and trials at home, but everyone knows their life is privileged compared to the wasteland outside.
This safe, stable home is then threatened with crisis: a dwindling water supply in Vault 13, a drought in Arroyo, and political instability in Vault 101. At the command of an authority, the PC must then leave this place – leave Eden – to face an unknown world alone with nothing but a small amount of equipment and resources.
The Fallout archetype is so engaging because it mirrors the player's relationship to the game world. I am a middle-class American who has led a safe, stable life compared to those across the globe with unimaginable hardships: I have never gone to bed hungry, never had to go to extreme measures for food and water, and never been besieged by war in my homeland. The PC has been isolated from these challenges, as well, and thus is in the same naive state of mind as your average middle-class gamer. Part of the appeal of all post-apocalyptic games is the player asking themselves "How would I do in the Apocalypse? If my world crumbled, would I have what it takes to survive?" Instead of just dropping you in to a wasteland, Fallout games have gone a step further by setting up a foundation on which you can more easily project your own life in to that of the PC's.
A key step in this narrative is when a personal conflict gives way to a regional conflict. Your average gamer has no bearing on regional conflicts, whether they are political, economic, or martial: we're mostly unimportant individuals, except to our friends and family. If I left my house tomorrow and someone ran up to me, begging "There is a brewing regional conflict that only you can address!", I would have a hard time believing them. Similarly, when the PC leaves their home, no one in the Wasteland has any reason to care about them, nor are their fates connected. The Fallout archetype does not saddle the PC with massive, history-setting responsibilities from day one; the character certainly has some important things to do, including saving lives, but this only impacts a small number of people. This not only helps avoid the disbelief that some random chump would be instantly important, as happens in many video games, but the evolving conflict provides a series of emotional stepping stones that immerse the player more and more in the choices they make.
It is within this framework that the decision-and-repercussion system of Fallout becomes so enthralling. The systems of character interaction, decision making, karma, and reputation would not be as effective without the sense that my in-game character is just as new, naive, and vulnerable to the Wasteland as I am, sitting at my computer, safe and warm. When you exit your sheltered community there really is the feeling that you have entered a new world in which you can set your destiny. The personal-to-regional conflict evolution then ups the stakes, creating an experience where the player becomes more and more aware that their actions will have long-term impact on the world around them.
New Vegas doesn't know a Vault from a hole in the ground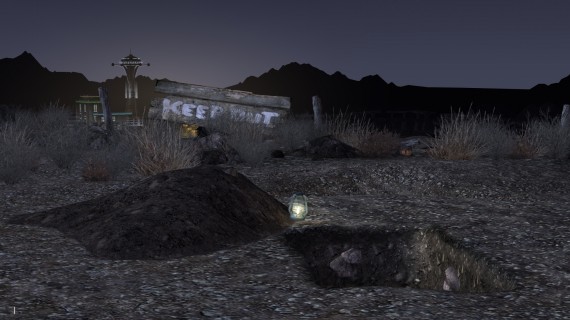 Welcome to New Vegas:
Fallout: New Vegas: You are a Mojave Express courier, tasked with surviving and navigating a harsh wasteland. There is an ongoing conflict simmering between the NCR and Caesar's Legion. You are shot in the head by a powerful casino owner, Benny, while you're working for an even more powerful casino owner, Mr. House. You are buried alive, then rescued by one of Mr. House's robots. You might have amnesia. You must seek revenge on Benny, find out why Mr. House needs your help, and discover how this relates to the region-defining NCR-Legion war.
Simply put, New Vegas is missing the Fallout archetype. The character's backstory, introduction to the wasteland, and decision-making opportunities are contrary to the immersive and continuous character progression that was the trademark of previous installments. No, New Vegas is not a ordinal Fallout game – it's not Fallout 4. The creative staff's desire may have been to create something different from previous canonical Fallout games, but that difference was paid in satisfaction.
The biggest contrast is that, instead of starting out as an inexperienced, sheltered character, you start as a courier: an individual supposedly savvy to the Mojave Wasteland. No coddled Vault resident or bumpkin tribal, here; you're someone who should know the Wasteland like the back of his hand, should know the dangers out there, should know the communities and factions around New Vegas – but you don't. Rather than an emotional player-character bond being forged around fear of and excitement for the unknown dangers beyond home, you're just a down-on-their-luck chump in the Mojave. As far as I can tell, amnesia is never actually mentioned in the game, and only implied on a couple of occasions, so the player's personal unfamiliarity with the world is barely explained. Amnesia is an uninspiring form of naivité: instead of genuine inexperience, you are incapacitated and inadequate. You don't spend the game evolving the player character, you spend the game recovering them.
This backstory segues in to your harsh (re)introduction to the Wasteland. You don't start in a safe and stable Vault or village, spurred to action by crisis; you're shot in the head and buried alive. A shallow grave is not as comforting and sheltered as my own home. The ventures of the Vault Dweller, the Chosen One, and the Lone Wanderer are initially driven by community or kinship that the player can empathize with: part of the post-apocalyptic fantasy is not only to save yourself, but to, in some way, preserve your friends, family, and way of life. There is no love, dedication, or even ambition driving the Courier's venture in to the wastes, just questions, revenge (a notably different moral ground to start on), and a strange robot.
The NCR-Legion war is one of the best and strongest story elements in New Vegas, as well as being closer to previous Fallout narratives than other parts of the game. Fallout games have a strong motif of examining how societies are formed and run, and New Vegas may actually exceed previous games in this respect. However, the gradual progression of pursuing a personal conflict that turns to a regional one is warped and shortened in New Vegas. The player is made aware of the NCR-Legion conflict in the game's prologue, and the PC hears about it from nearly everyone they meet. There is no surprise turn, no twist that preys on the emotional drive developed on the fear and love compelling the PC's first ventures in to the wastes. The PC is aware of the conflict and its significance very early on, so all that's left is to find out how you'll get involved.
Even the vengeful, personal pursuit of Benny is paralleled by the mystery and importance of the Platinum Chip. There is simply no surprise here: you know that you've got to be in a fairly important game from the get-go if you're being pawned around by casino owners grappling over a valuable object. The only surprise is what the Platinum Chip does – which doesn't actually re-define the conflict, it just moves the odds around.
The strangest shift in New Vegas is the strikingly linear feel to the game's beginning. Literally linear, in that you're pointed down a road where a hundred yards from either edge lie men or beasts that will kill you in seconds, so you'd damn well better stay on that road. (Perhaps they were a little too enamored with Cormac McCarthy, which I can't entirely blame them for: The Road was superb.) All the previous Fallout maps had an almost agoraphobic, shelter-less, panic-inducing openness: you really can go in any direction. There were safer directions to go in, and more obvious paths, but nothing felt imposed. The Lone Wanderer of Fallout 3 could, completely by chance, stumble in to Smith Casey's Garage and emerge with his father, skipping the whole first act. That is truly Fallout-style open-world storytelling.
Down the long road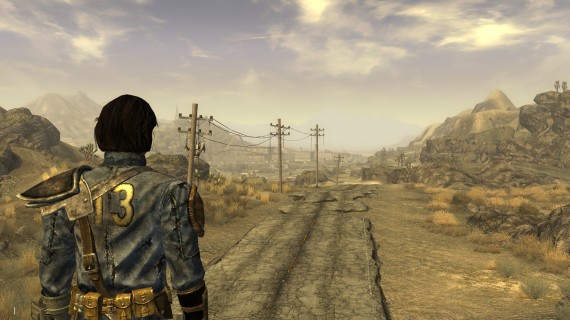 I did not write this simply to point out the flaws in Fallout: New Vegas. That would have made for a much shorter critique. Identifying the emotional elements that define the unique, immersive, and satisfying Fallout interactive narrative will help ensure they continue to be some of the best single-player games ever created.
Here are notes and recommendations for Fallout 4's development:
The plot and player character: Embrace the Fallout archetype, but don't feel it should be cliché – the PC need not be from a Vault. Recognize that the core of the player-character bond is the feeling that there could be a nuclear wasteland right outside my own door. Everything else descends from this.
Return to the West Coast: New Vegas has led us back West, to where Fallout began – now it's time to bring it all the way back. A "compressed geography" map of the Bay Area or Los Angeles would be an excellent setting (the Bay would be the most interesting terrain, plus a return to San Francisco as an important Fallout 2 location – and Sunnyvale as the Platinum Chip's origin).
Creation Engine: I am not a fan of The Elder Scrolls series, but I am following Skyrim news for any details on the Creation Engine (CE) as that is the likely choice for Fallout 4. Gamebryo has been a good engine, but New Vegas stretched it as far as it can go. So far, the CE looks amazing for its visual quality and interaction (such as the impressively flexible-sounding AI and scripting system). Speaking of the West Coast, that locale would showcase the visual improvements of the CE better than any dusty desert or cratered valley.
Poseidon! The Enclave! The Brotherhood! I personally enjoy the old-world factions, and their remnants, as relics struggling for relevance in a world they destroyed. Their power and technical abilities can really up the stakes in a story (as they did in 2 and 3), and they offer another perspective on how societies are built and run. Plus, the biggest mystery of Fallout lies unresolved: who dropped the first bombs – though part of me wants this to remain unanswered.
No MMO: I cannot think of something more revoltingly un-Fallout than an MMO experience. Don't pay attention to all the people strung out on WoW and other cliche fantasy genre MMORPGs, they're just looking for another fix. Fallout is a single-player universe that presents whole narratives akin to an engrossing movie or book (one of the only times you'll find me agreeing with Justice Anthony Scalia). The continuous world of an MMORPG dilutes the power of storytelling and the player-character bond by impressing a larger social system that is foreign to the game: internet gamers. I don't want to play Fallout with my friends, I don't want to play Fallout with strangers – Fallout games are about a lone person facing a harsh world. I choose whether I want to have a companion, walk alone, find a community, destroy a community, or anything else, without the expectations or demands of other players. Even worse, the piecemeal quest requirements of a continuous world would place extended writing demands that, frankly, could lower the bar and introduce poor-quality canonical material.
No China: This is a tough recommendation to make. I really would like to see what the Fallout creators imagine for post-war China's fate, if anything to contrast culturally-specific reactions to crisis. However, Fallout is an American game, rooted in the culture, politics, and history of the United States, and that helps to drive the player's immersion (even for foreign players acutely aware of American culture). The broadest I can see it cast it to involve all of North America, as the United States' wartime relations to Canada and Mexico reflect on its pre-war hawkishness and desperation. (Perhaps a relevant West Coast Fallout 4 expansion would cover the NCR invasion of Baja and its parallels to the pre-2077 US invasion of Mexico.)
No Area 51: Mothership Zeta went too far. Aliens only belong in Fallout as a random encounter, just a little joke for those fortunate to come across them. Fallout is not about aliens or things beyond our world: Fallout is about humans and human problems (well, and former humans, too). Any fan that suggests an Area 51 expansion probably just duly works through the plot only to watch cool stuff blow up. Yes, stuff blowing up can happen quite a bit in Fallout, but it's just bloody, nitrocellulose-scented frosting on a delicious cake of character immersion.
– emilio
Out in the sticks: New Vegas expansions
You've read this far, so at least this is somehow interesting (even if you disagree with me). If you happen to be an Obsidian developer then this section is especially for you.
So, how were the New Vegas expansions? (I avoid calling them "DLCs", as that's the name for a distribution method, not an actual experience.)
Dead Money: Dead Money had a lot of good elements going for it that were hampered by clunky storytelling. Unfortunately, some of that storytelling was restricted by the abilities of the Gamebryo engine, so it didn't quite have the smooth experience of a polished narrative: the prologue and epilogue slide shows felt stuttered and tacked-on, and the in-game story needed a little more meat to flesh out what happened to the pre-war Sierra Madre Casino. Dean Domino and Dog/God were intriguing and enjoyable characters, but I hoped for a lot more from Christine and Elijah. The Villa areas were a little too twisted and easy to get lost in, but they made for good combat zones against the tough Ghost people.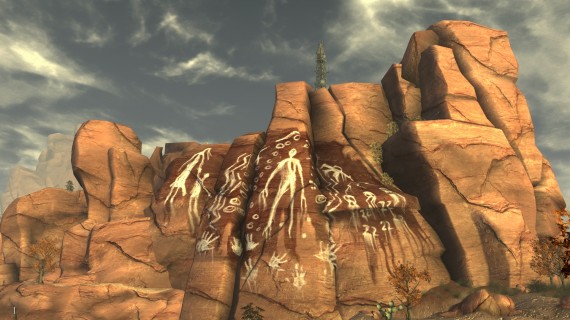 Honest Hearts: I really enjoyed what Honest Hearts brought to the table: interesting characters and a fascinating perspective of how spirituality plays in to societal and cultural development, all set in a stunning environment. The parallels drawn between the tribal's belief in The Father in the Cave and Christianity and other traditional religions were a nuanced reflection on how crises and hardship drive spiritual development. Honest Hearts hit rocky terrain on its fairly single-track gameplay: the world is slim on choices, especially for an evil character, especially for a Legion loyalist. There really should have been an option to side with the White Legs, or at least more actively sabotage the efforts of the New Caananites, Sorrows, and Dead Horses. Instead, the evil path is simply to kill the good guys, find a map, and go home.
Old World Blues: Scien-tastic! Old World Blues (OWB) distilled and coalesced the sci-fi elements of Fallout in to an extremely fun and engaging experience. Fallout games often incorporate sci-fi elements of technological advance at great risk, especially the scientific and military hubris that doomed the world.  OWB embodied that in a group of crazy, arrogant scientists living in a basin of their own successes and failures. OWB also seemed a conscious response to fan reactions – reasonable and unreasonable – to the core New Vegas game and other expansions. Even the "Midnight Science Fiction Feature!" warning dialog was a tongue-in-cheek poke at bitchy fans who want their hand held in uncertain times (what the hell are you playing Fallout for, then?). Some of the changes were very welcome: in New Vegas there are remote, secluded places that you could try to get to, if there wasn't a frustrating invisible wall there, and if you managed to get there it only had a slim chance of having anything of interest. In effect, it was not very encouraging to explore the Mojave Wasteland in detail. By contrast, Big MT seems to have stuff everywhere. Every nook and cranny, every corner of a dark lab, every tricky-to-get-to platform had something there, even if just a metal box with minor loot.
Fun fan-pandering aside, Old World Blues really gets the Tesla coil crackin' in the voice talent and writing areas. The researchers of Big MT have the voices of pre-war authority and arrogance, never acknowledging failure before marching headlong in to the next experiment. Jim Ward as Dr. Klein (and the CIU and the Auto-Doc!) and Beau Weaver as Dr. Borous were vital to the sci-fi B-movie aesthetic, as every one of their lines sounded like a 1950's creature feature trailer. James Urbaniak was a special treat and worked excellently for Dr. 0, exuding an insecure nerdiness without merely copying his character from The Venture Bros. – Dr. 0 lacks the ego and forced smugness or Dr. Venture.
Lonesome Road: As of this writing, Lonesome Road still has a week to release. A little has been hinted at, through audio tapes in Big MT and the Bethesda Blog, but these don't actually tell you anything about Ulysses or your history: he's pissed, he's coming for you, stay tuned. However, while I know little of its content, I am concerned that Lonesome Road will attempt to fill in the Courier's possibly amnesia-fogged past with details that should have been in New Vegas in the first place. Are you really from a Vault? Mr. House's cryogenically-preserved offspring? The love child of aliens and The King? I'm optimistic that Lonesome Road will be a good time, but it's quite late to be injecting the personal dimension that New Vegas has been lacking.
So… What do you want to see in Fallout 4? Or if you'd like to reach me otherwise, mention it in a comment.
Fallout and Fallout 2 images from the Fallout Wiki. 10.7 broke my PPC Fallout apps!